---
♪ ♫ ♪

Trick or treat, smell my feet
Give me something good to eat
If you don't, I will cry
Burn your house and watch you die

— Razah Cortaer —

---
It's that magical time of year where kids dress up as anything they want to be - from sweet little Fairies and Disney Princesses to the more gruesome and horrific side with Witches, Demons, and the creatures lurking in the shadows - all in the name of getting them some good ol' candy to help rot their teeth out of their skull.

I cannot offer out candy, as this is the internet, so instead I offer out Player Power instead.
Not sure what Player Power is? visit the FAQ to find out.

---
EVENT : RAISE THE DEAD
Description: Help get the forum started by sharing the link with friends and family across social media and other places you can share it.

SHARE : the following links:
REWARDS : Player Power
Description: Be sure to keep track of when and where you shared!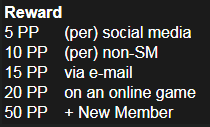 ---
Want to see something added to this? Let me know in the comments.